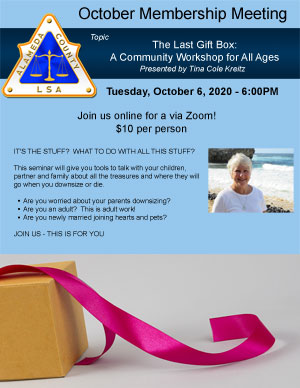 Tuesday, October 6, 2020 Member Meeting
Topic: The Last Gift Box: A Community Workshop for All Ages
Date and Time: Tuesday, October 6, 2020 – 6:00PM
Location: Zoom Meeting
Price: $10.00
Description:

IT'S THE STUFF? WHAT TO DO WITH ALL THIS STUFF?
This seminar will give you tools to talk with your children,
partner and family about all the treasures and where they will
go when you downsize or die.
Are you worried about your parents downsizing?
Are you an adult? This is adult work!
Are you newly married joining hearts and pets?
JOIN US – THIS IS FOR YOU