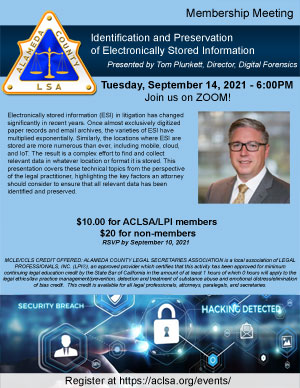 Tuesday, September 14, 2021
Topic: Identification and Preservation of Electronically Stored Information
Date and Time: Tuesday, September 14, 2021 – 6:00PM
Location: Zoom Meeting
Speaker: Tom Plunkett, Director, Digital Forensics
Price: $10.00 for ACLSA/LPI members, $20 for non-members
Description:
Electronically stored information (ESI) in litigation has changed significantly in recent years. Once almost exclusively digitized paper records and email archives, the varieties of ESI have multiplied exponentially. Similarly, the locations where ESI are stored are more numerous than ever, including mobile, cloud, and IoT. The result is a complex effort to find and collect relevant data in whatever location or format it is stored. This presentation covers these technical topics from the perspective of the legal practitioner, highlighting the key factors an attorney should consider to ensure that all relevant data has been identified and preserved.
MCLE & CCLS will be provided.
Saturday, September 25, 2021
MDLPA and ACLSA are inviting you to an OAKLAND ATHLETIC's Game
Mt. Diablo Legal Professionals Association and Alameda Co. Legal Secretaries Association are inviting you to an interclub event. We will be selling Oakland A's baseball tickets to the Saturday, September 25, 2021, game vs. Houston Astros. Game time is at 1:07 p.m.
Please RSVP to Natalie Chop, CCLS at nataliejchop@gmail.com or call/text her at 925-984-5418 to reserve your tickets.
Tickets are only $19 per person*, and the seats are located in the third deck behind home plate, Section 318, Rows 7, 8, 9, and 10, Seats 18-22 in each row (4 rows with 5 seats in each row).
Money for ticket(s) (*via check made payable to MDLPA) should be sent to Natalie Chop, 1334 Louisiana Drive, Concord, CA 94521. You may also pay by credit card or PayPal through our website at: www.mtdiablolpa.info. If paying via credit card or PayPal, cost is $20 (including a $1 processing fee).
Covid-19 Rules at the ballpark can be found at 2021 COVID-19 Fan Oakland Coliseum Health and Safety Measures | Oakland Athletics (mlb.com)
Deadline for payment is August 25, 2021.
We hope you'll join us for this social event!