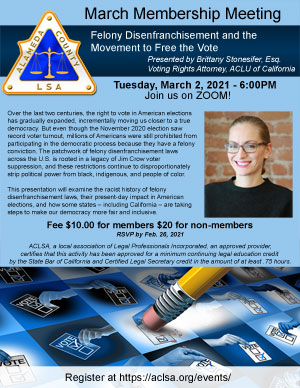 Tuesday, March 2, 2021 Member Meeting
Topic: Felony Disenfranchisement and the Movement to Free the Vote
Date and Time: Tuesday, March 2, 2021 – 6:00PM
Location: Zoom Meeting
Speaker: Brittany Stonesifer, Esq., Voting Rights Attorney, ACLU of California
Price: $10.00
Description:

Over the last two centuries, the right to vote in American elections has gradually expanded, incrementally moving us closer to a true democracy. But even though the November 2020 election saw record voter turnout, millions of Americans were still prohibited from participating in the democratic process because they have a felony conviction. The patchwork of felony disenfranchisement laws across the U.S. is rooted in a legacy of Jim Crow voter
suppression, and these restrictions continue to disproportionately strip political power from black, indigenous, and people of color.
This presentation will examine the racist history of felony disenfranchisement laws, their present-day impact in American elections, and how some states – including California – are taking steps to make our democracy more fair and inclusive.
Brittany Stonesifer is a Voting Rights Attorney at the ACLU of California, where she advocates to expand the franchise to all Californians and to reduce barriers to voting caused by the registration process. Since joining the ACLU in 2019, Brittany helped lead a successful campaign to restore voting rights to Californians who are returning home after completion of a prison sentence. She also worked with advocates across the state to ensure that the COVID-19 pandemic did not force California voters to choose between protecting their health and exercising their right to vote. Before coming to the ACLU, Brittany coordinated a successful statewide campaign to eliminate unfair fines and fees that trap people with convictions in cycles of poverty and helped change county practices that illegally blocked formerly incarcerated people from voting. Brittany received her law degree from U.C. Hastings College of the Law, where she specialized in civil rights and international human rights law.
MCLE & CCLS will be provided.
Register by Friday, February 26, 2021